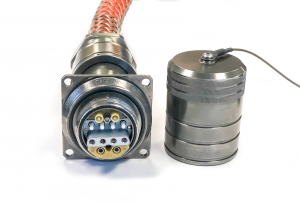 TFOCA-II® 12-Channel RigLinQ
Hybrid Fiber Optic Connectors
The TFOCA-II® 12-channel RigLinQ fiber optic connector is ideally suited for environmentally harsh conditions. Hybrid design lowers overall systems cost and greatly reduces panel mount foot print by combining optical and electrical signals in one quick connect housing. The unique TFOCA-II®connector series is designed and patented by Amphenol Fiber Systems International.
This design takes advantage of the latest in fiber optic connectivity technology by utilizing an industry exclusive fully articulating optical termini for superior optical performance and environmental open-face sealing.
The TFOCA-II® RigLinQ connector is designed for minimal maintenance in the field. Field cleaning if required is facilatated by a removable end cap allowing direct access to the alignment sleeves and termini.
Features & Benefits
Hermaphroditic Design for Versatility – Enables multiple TFOCA-II® plug assemblies to be concatenated
Removable End Cap – Allows for easy field maintenance and cleaning
Improved Cable Retention Strength – Designed to meet 400 lbs pull strength while protecting fibers from stress
Ni-PTFE Plating – Provides substantial longevity to corrosive environments and is conductive allowing safe grounding of cable armor. Meets new mandate set by the Environmental Protection Agency for elimination of heavy metal plating
High Performance Insert – High Perfomance Injection Molded Insert made from 30% GF Ultem® 2300 provides outstanding dielectric strength plus superior mechanical performance
Hi Performance Metal Alignment Sleeves – More robust than ceramic alignment sleeves
Hermaphroditic Dust Cap – Plug and/or receptacle dust caps connect together to prevent dust and moisture penetration during deployment
Field Repairable Using Existing Parts – Additional connector components (other than termini) are not required to perform field repair
Panel Mount Versions Available – In-line Panel mount with full environmental protection available as well as standard panel mount. Both designs feature industry first Blind Mate Assist Sleeves to aid user ergonomics.
Also Available in Stainless Steel and Brass – Allows the connector to be used in a variety of applications Oil, Gas, and Geoscience industries
Multiple Fiber Types – Supports Single mode, Mutlimode, and Plastic Optical Fiber (POF)
Applications
Next Gen Drilling Rig Control Systems
Mining
Industrial
Broadcast
Supports both multimode and single mode fiber
Expanded beam technology is less susceptible to dust and debris
Monolithic insert design facilitates cleaning
Hermaphroditic design enables daisy-chaining of cable assemblies to support varying distances
Non-contacting interface allows thousands of mating cycles
Specifications
| | |
| --- | --- |
| Description | Measurement/Detail |
| Insertion loss (multimode) | Typical: 0.30dB Maximum: 0.75dB |
| Insertion loss (single mode) | Typical: 0.40dB Maximum: 0.75dB |
| Back reflection (single mode-UPC polish) | Typical:-50dB Maximum: -40dB |
| Operating temperature | -46° C to + 71° C |
| Storage temperature | -52° C to + 85° C |
| Mud | 5minute immersion, clean with water (perMIL-C-83526/12 /13 requirements) |
| Water pressure | MIL-STD-810,Method 512.4, 1m, 48hr |
| Ice crush | DOD-STD-1678,Method 4050 |
| Humidity | DOD-STD-1678,Method 4030, 10 Cycles |
| Flammability | MIL-STD-1344,Method 1012 |
| Vibration (operational) | MIL-STD-1344,Method 2500.1 |
| Shock | EIA/TIA-455-14, Condition A |
| Mating durability | 2,000 cycles per EIA/TIA-455-21 |
| Cable seal flexing | 100 cycles perMIL-STD-1344,Method 2017, Procedure 1 |
| Twist | 1,000 cycles per EIA/TIA-455-36 |
| Cable retention | 400 lbsmin per EIA/TIA-455-6, 1hr (plug&strain relief receptacles) |
| Impact | EIA/TIA-455-2 |
| Crush resistance | 450 lbs minimum per EIA/TIA-455-26 |
| EMI shielding effectiveness (receptacle only) | >60dB, 15KHz to 10GHz |