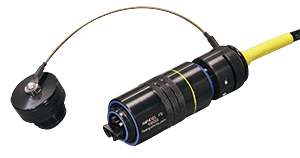 109 Series Connectors®
Physical Contact Connectors – Hermaphroditic
Amphenol Fiber Systems International (AFSI) offers hermaphroditic fiber optic connectors for deployable fiber optic communication requirements. These economical connectors are designed to be the industry's most rugged connector providing easy maintenance and superior optical performance.
AFSI's line of 109 series hermaphroditic connectors offers the ultimate in flexibility and is a direct replacement for the TAC4. The 109 connectors can function as either a plug or a receptacle to fit any system design. With these connectors, cable assemblies can be daisy-chained to provide the required distance for each specific deployment condition.
The 109 connector line meets or exceeds the pertinent requirements of SMPTE (Society of Movie Picture and Television Engineers) standard 358M on harsh environment multi-channel fiber optic connectors suitable for deployment in demanding outdoor broadcast applications, including high definition television (HDTV) signal transmission.
Features
2 and 4-channel configurations
Single mode and multimode compatible
Field maintainable removable dust cap for easy termini cleaning
Sealed floating ferrule technology
Ultra PC polish option
Assemblies available on reels
Hermaphroditic design for plug-to-plug connections
Benefits
109 plugs can function as either a plug or a receptacle to fit any system design
Superior optical performance is obtained by a sealed, free-floating termini
Single mode supports broadband requirements
Applications
Deployable broadcast networks, including HDTV
Outdoor fiber optic interconnect
Emergency restoration systems
Ship-to-shore communications
Military tactical deployable systems