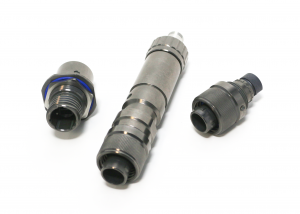 Amphenol Fiber Systems International (AFSI) has announced the latest addition to its high density product portfolio. The THDM is a MIL-PRF-28876 derived mechanical transfer (MT) rugged fiber optic connector for military and aerospace applications.
THDM is modular, allowing multiple combinations of fiber types to be used in the same connector. The THDM connectors are available in 2, 4 and 8- MT configurations, which can supports 24 to 192 fiber channels using industry standard MT ferrules. The connector features M28876 or M38999 strain relief options.
The THDM connectors also feature a ratcheting coupling nut, as well as insert to insert bottoming to provide superior optical performance in high shock and high vibration applications. The connectors are sealed to IP68 standards to resist fluids and dust penetration. A variety of protective finishes are available to ensure durability over a wide range of environmental conditions. As with most AFSI products, they are available in stainless steel, brass or marine bronze.
Features & Benefits
3 configurations: 2, 4 and 8 MT ferrules for up to 192 fiber channels
Ratcheting coupling nut for high vibration environments (derived from M28876)
IP 68 sealing
Removable and replaceable MT ferrules
Expanded beam capable
Environmental –
– Operating temperature -54C to + 65C
– 500 cycles mating durability
– Vibration per MIL-STD-1344, method 2005
Available in cadmium and nickel plated aluminum, stainless steel, PTFE and black anodize
Performance:
– IL: 0.5dB nominal MM
– IL: 0.65dB nominal SM
Applications
Military and Aerospace
Shipboard
Oil & Gas
Specifications
| | |
| --- | --- |
| Description | Measurement/Detail |
| Attenuation (Insertion Loss) | 0.75db max per connection (1.5 total), TIA/EIA-455-171 |
| Return Loss | -65dB Max RL HD-Optyx™ APC, TIA/EIA-455-107 |
| Mating Durability | 500 Cycles, TIA/EIA-455-21 |
| Vibration | TIA/EIA-455-11, Test Conditions II and VI |
| Mechanical Shock | TIA/EIA-455-14, Test Condition A |
| Thermal Shock | -40C to +85C, TIA/EIA-455-3 |
| Thermal Cycling | -40C to 85C, TIA/EIA-455-3 |
| Ozone Exposure | Per MIL-STD-1344A |
| Humidity | tia/eia-455-5, 10 cycles |
| Fluid Immersion | TIA/EIA-455-11 |
| Cable Retention | 400 pounds, TIA/EIA-455-6 |
| Impact | EIA/TIA-455-2 |
| Crush Resistance | MIL-STD-1344, Method 2008.1, 7 tests @ 1250 Newton |
| Cable Sealing Flexing | MIL-STD-1344, Method 2017 |
| Corrosion Resistance | 500 hour TIA/EIA-455-14 (CAD) |
| Connector, Backshells, and Dust Cover | Aluminum alloy, cad plate, 316 stainless steel, 303 stainless steel |
| Cable Sealing Strain Relief | Polyolefin, self-encapsulating |