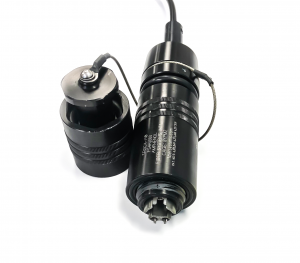 TFOCA-II® 4-Channel Fiber Optic Connectors
Physical Contact Connectors – Hermaphroditic Connectors
In 1999, Amphenol Fiber Systems International (AFSI), in collaboration with the United States Army Communications-Electronics Command (CECOM), designed the "next generation" deployable fiber optic connector for the emerging "knowledge-centric warfare communication" requirements of the future battlefield.
The heart of the TFOCA-II® family of deployable fiber optic connectors centers on the TFOCA-II® sealed free floating termini. The unique termini design enables TFOCA-II® connectors to seal against high humidity and moisture conditions while allowing full axial and orbital movement of the mated termini, providing low insertion loss and minimal back reflection.
This unique connector series was designed and patented by AFSI for use in environmentally harsh conditions. The US Army has standardized on the 4-channel TFOCA-II® connector as the next generation fiber optic connector for military tactical deployable network applications.
TFOCA-II® is a registered trademark of Amphenol Fiber Systems International. The TFOCA-II® is covered by US Patents 6,305,849; 6,371,660, and 6,357,929
Features
Hermaphroditic design for versatility, enables multiple TFOCA-II® plug assemblies to be concatenated
Removable end cap, allows for easy field maintenance and cleaning
4-channel connector design, two fold improvement over TFOCA with better optical performance
Improved cable retention strength, designed to meet 400 lb pull strength while protecting fibers from stress
Zn-Ni plating, provides substantial longevity to corrosive environments. Meets new mandate set by the Environmental Protection Agency for eliminating heavy metal plating
Commercial ceramic ferrule technology, enables TFOCA-II® connector to provision multimode and single mode interconnect with a variety of polishes including SPC and UPC
Solid core alignment sleeves, more robust than split alignment sleeves
Hermaphroditic dust cap, plug and/or receptacle dust caps connect together to prevent dust and moisture penetration during deployable conditions
Optional key positions – four key positions (1,2,3, universal) available, enabling segregation of mated plug/receptacles or plug/plug, through mechanical interface
Field repairable using existing parts, additional connector components (other than termini) are not required to perform field repair
Also available in stainless steel and brass, allowing the connector to be used in a variety of applications
Options Available
Plug options, key 1,2,3,U
Jam nut receptacle
Flange mount receptacle
Flange mount strain relief receptacle (SRR)
Jam nut mount to ST adapter receptacle
Stainless steel plug and/or jam nut receptacle available upon request
EPDM seals for NBC (nuclear, biological and chemical) environments
Material
Ferrule: 2.5mm diameter ceramic ferrule
Exterior parts: aluminum-zinc/nickel
Interior parts: aluminum-annodize/chemfilm
Hardware: stainless steel, passivated
Seals: nitrile
Alignment sleeves: solid core
Applications
US Army, Navy, and Marine Corps military tactical deployments
Oil, gas, and geoscience industries
Industrial
Broadcast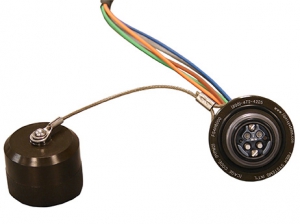 Specifications
| | |
| --- | --- |
| Description | Measurement/Detail |
| Insertion Loss (Multimode) | 0.30dB – Typical, 0.75dB – maximum |
| Insertion Loss (Single Mode) | 0.40dB – Typical, 0.75dB – maximum |
| Back Reflection (Single Mode-UPC Polish) | -50dB – Typical, -40dB – maximum |
| Operating Temperature | -46° C to + 71° C |
| Storage Temperature | -55° C to + 85° C |
| Mud | Five minute immersion, clean with water (per MIL-C-83526/12 /13 requirements) |
| Water Pressure | MIL-STD-810, Method 512.4, 1m, 48hr |
| Ice Crush | DOD-STD-1678, Method 4050 |
| Humidity | DOD-STD-1678, Method 4030, 10 cycles |
| Flammability | MIL-STD-1344, Method 1012 |
| Vibration (Operational) | MIL-STD-1344, Method 2500.1 |
| Shock | EIA/TIA-455-14, Condition A |
| Mating Durability | 2,000 cycles per EIA/TIA-455-21 |
| Cable Seal Flexing | 100 cycles per MIL-STD-1344, Method 2017, Procedure 1 |
| Twist | 1,000 cycles per EIA/TIA-455-36 |
| Cable Retention | 400 lb minimum per EIA/TIA-455-6, 1hr (applies to plug and strain relief receptacles) |
| Impact | EIA/TIA-455-2 |
| Crush Resistance | 450 lb minimum per EIA/TIA-455-26 |
| EMI Shielding Effectiveness (Receptacle Only) | > 60dB, 15KHz to 10GHz |
| Corrosion Resistance | MIL-STD-1344, Method 1001, Condition A |