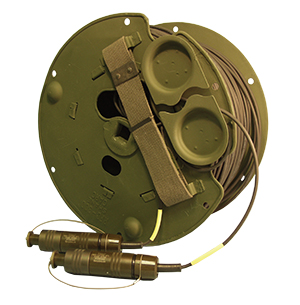 Multi-Channel Fiber Optic Cable Assemblies
Amphenol Fiber Systems International (AFSI) builds custom cable assemblies for virtually any applications. Our stringent quality system, certified to MIL-STD-790, ensures the highest levels of workmanship and performance available today in each and every cable assembly built.
There are virtually no connector standards that AFSI does not support. In addition to 100% optical performance testing, AFSI also provides value-added services such as thermal cycling, high-temperature aging, and other post-build environmental testing.
Features
AFSI is a CECOM approved source for TFOCA cable assemblies
AFSI is a CECOM approved source for TFOCA-II® cable assemblies
AFSI is certified to MIL-STD-2042 for shipboard assemblies
Every AFSI cable assembly is covered by a full year warranty from the date of delivery
Cables can be built with:
TFOCA connectors
TFOCA-II® connectors
TFOCA-III® connectors
THD connectors
FS3H connectors
FS12H pierside connectors
M28876 connectors
D38999 connectors
MIL-ST, or any commercially available connector