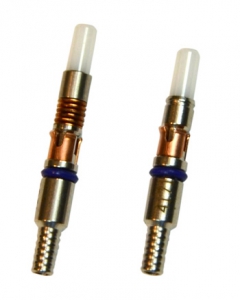 M29504/14 & /15 Fiber Optic Termini
Termini
M29504/14 & /15 termini from Amphenol Fiber Systems International (AFSI) are qualified to MIL-PRF-29504B specifications. This series of fiber optic termini provide superior optical and mechanical performance and are compatible with M28876 and comparable military-style connectors.
Unlike other M29504/14 & /15 designs, AFSI's product is precision-engineered, allowing the ferrule to press fit and bottom out within the terminus bodies. This strict tolerance management eliminates loose fit or epoxy construction and yields better overall performance under stressful environmental conditions.
The M29504/15 features a ceramic alignment sleeve, maximizing its ability to hold extremely tight dimensional tolerances while maintaining accurate concentricity, providing superior mechanical and optical performance.
Options Available
AFSI offers a complete line of termini insertion, extraction and polishing tools, which are compatible with NAVSEA specifications. These tools can be used with AFSI M29504/14 & /15 termini or other manufacturers' M29504/14 & /15 termini. Tools include termini extraction, termini insertion, alignment sleeve extraction, alignment sleeve insertion and single position polishing puck.
Features
Pre-radius zirconia ferrule tip provides optimal insertion loss performance
Laser marked TICC codes eliminate the need to decipher complex color code bands
Precision ferrule alignment with captivated split zirconia sleeves
Wide configuration selection
Superior optical performance
Custom sizes available. Commercial-Off-The-Shelf (COTS) only
Integrated environmental seal on each terminus
Precision "press fit" terminus design
Each terminus individually packaged and labeled for ease of identification, storage and use
Applications
Supports both multimode and single mode fiber
Expanded beam technology is less susceptible to dust and debris
Monolithic insert design facilitates cleaning
Hermaphroditic design enables daisy-chaining of cable assemblies to support varying distances
Non-contacting interface allows thousands of mating cycles
Certification
MIL-PRF-29504B QPL listed
Material
Ferrules: zirconia ceramic
Termini bodies: stainless steel, passivated
Retention clips: beryllium copper
Alignment sleeves: ceramic core
Alignment sleeve hood: beryllium copper
O-ring seal: fluorosilicone
Specifications
| | |
| --- | --- |
| Description  | Measurement/Detail |
| Back Reflection   | <-40 dB – PC polish, <-55 dB – enhanced PC polish   |
| Insertion Loss   | 0.45dB typical (measured with 62.5/125mm fiber @1310nm)   |
| Operating Temperature   | -65°C to +150°C (dependent on epoxy and cable)   |
| Temperature Cycling   | -62°C to +70°C per MIL-STD-1344, Method 1003C   |
| Temperature Shock   | -54°C to +65°C per MIL-STD-1344, Method 1003   |
| Temperature Life  | +110°C for 240 hours   |
| Vibration   | MIL-STD-1344, Method 2005, Condition II & VI   |
| Mechanical Shock   | MIL-STD-901C, Grade A   |
| Mating Durability   | 500 cycles per EIA-455-21   |
| Pressure Sealing   | (wiper seal) 2,000 psi   |
| Terminus Mating Force   | 5 lb [22.2 N] nominal   |
| Terminus Retention Force   | 22 lb [97.9 N]   |
| Cable Retention Force   | 25 lb [111.2 N] (dependent on cable construction)   |
| Weight   | 1.0 grams, max   |
| Ozone Exposure   | MIL-STD-1344, 1007   |
| Impact   | MIL-STD-1344, Method 2015   |