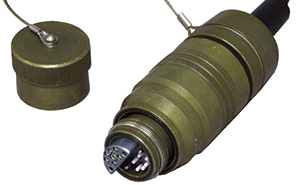 FS12 Pierside 12-Channel Fiber Optic Connector
Physical Contact Connectors – Hermaphroditic
The Amphenol Fiber Systems International (AFSI) FS12 fiber optic connector is for harsh environment, broadcast and pierside applications. This connector is available in either single mode or multimode and uses field-proven MIL-PRF-29504 termini.
The 12-channel FS12 Pierside connector design provides flexibility for current and future Navy communication requirements both afloat and ashore. This connector is also ideal for high fiber count tactical broadcast networks.
Removable termini, qualified to MIL-PRF-29504 specifications, enable quick connector reconfiguration and field maintainability.
Features
Hermaphroditic design: enables plug-to-plug or plug-to-receptacle connectivity
Rugged design: FS12 Pierside connector handles the rigors of deployment and harsh environment conditions for both industrial and military applications
Environmentally sealed connector: ensures environmental integrity
Military qualified MIL-PRF-29504 /14 & /15 Termini: takes advantage of tightly toleranced commercial ceramic ferrules and alignment sleeves allowing either single mode or multimode use
Removable insert cap: enables ease of socket termini cleaning
Captive insert cap screw: prevents loss of screw during cleaning or repair
Sealed termini: keeps the optical path clear under extreme environmental conditions
Field repairable using existing parts: additional connector components (other than termini) are not required to perform field repair
Applications
Umbilical cables used to interface between shore and ship networks
Broadcast
US Army, Navy, Air Force and Marine Corps tactical and strategic deployments
Oil, gas and geoscience industries
Industrial
Specifications
| | |
| --- | --- |
| Description | Measurement/Detail |
| Fiber Type | 62.5/125 multimode or 9/125 single mode |
| Insertion Loss | 62.5/125 multimode fiber –0.3dB typical, 9/125 single mode fiber -0.4dB typical. |
| Operating Temperature | -46°C to +71°C |
| Shock | EIA/TIA-455-14, Condition A |
| Vibration | MIL-STD-1344, Method 2005.1 |
| Cable Retention | 400 lb minimum per EIA/TIA-455-6 (applies to plug and strain relief receptacles only) |
| Twist | 1000 cycles per EIA/TIA-455-36 |
| Cable Seal Flexing | 100 cycles per MIL-STD-1344, Method 2017, Procedure I |
| Mating Durability | 2000 cycles per EIA/TIA-455-21 |
| Impact | EIA/TIA-455-2 |
| Crush Resistance | 450 lb minimum per EIA/TIA-455-26 |
| Flammability | MIL-STD-1344, Method 1012 |
| EMI Shielding | (Receptacles only) greater than 60dB average |