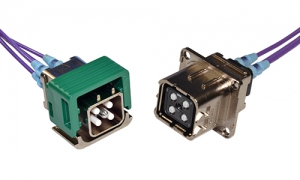 Physical Contact Connectors – European Standards
The Amphenol SIM Connection System is a modular multifunctional, multipin rectangular connector in metallic or composite versions. Available in shielded and non-shielded versions, SIM connectors are qualifed to the EN-4165 specification.
The system consists of jam nut or flange mount receptacles, which can be assembled side-by-side on a panel. Plugs are available in standard or rack-and-panel versions in easily removable click-in modules. Two shell types are available: two modules and four modules. There are two mating types: push-pull and panel mount plug.
When mating the plug to the receptacle, polarization is mechanically ensured by an asymmetrical mounting screw. The coupling screw includes a polarizing system with six nuts and six keys that provide thirty-six keying combinations. Six color-coded nuts and keys can also be used to increase polarizing options.
The SIM is available in two series and two material versions:
Metal shell version:
Standard SIM 2 N
Shielded SIM 2 D
Composite shell version:
Standard SIM 2 S
Shielded SIM 2 B
Various covers and cable clamp accessories complete the connector. The modules are made of thermoplastic and overmolded silicon elastomer materials.
Modules are inserted into the back of the receptacles or plugs. Modules can also be manually inserted in the shell compartment, but have to be extracted with an appropriate tool.
Contacts are inserted through the rear elastomer surface. The grommet features three elastic barriers to ensure proper cable sealing. Sealing is ensured on the mating side by the overmolded elastomer on the pin modules. The SIM connector is fully intermateable with connectors complying with MBBN 3330 – EN4165 standards.