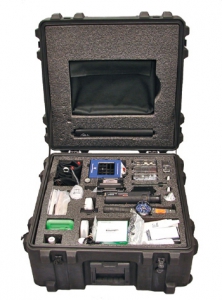 Amphenol Fiber Systems International (AFSI) offers a complete line of kits for terminating shipboard fiber optic connectors. These tool kits were designed to meet the requirements in the NAVSEA drawings 6872811, 6872812, 6872813, shipboard termination kits as well as the needs of the shipyard and AIT technicians tasked with performing MIL-STD 2042B compliant work.
AFSI has worked with the US Navy to ensure that we incorporate the approved tools and products into our tool kits so that the installer can consistently produce an end product that meets all of the demanding specifications as outlined in the MIL-STD 2042B. Our tools provide the best value for the installers by including all of the tools required to correctly assemble and maintain all of the MIL Qualified 28876, ST and SC connectors or termini, ensuring that installers will always have all of the tools they need.
Additionally, AFSI has developed fusion splicing support equipment and tool kits to support this ever expanding segment of the shipboard installation process.
These termination kits include:
FKIT013 – Shipboard cleaning kit

FKIT036 – NAVSEA curing oven kit

FKIT037 – BOF termination kit

FKIT038 – Hermaphroditic combination kit

FKIT048 – MIL FC/ST/SC upgrade

FKIT049 – MIL ST Commercial-Off-The-Shelf (COTS) version