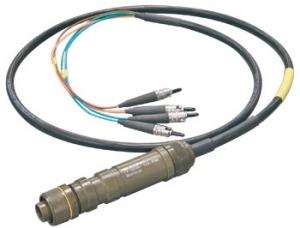 Amphenol Fiber Systems International (AFSI) is fully certified by United States Naval Surface Warfare Center, Dahlgren, Virginia as a provider of NAVSEA drawing 6877804 fiber optic Measurement Quality Jumpers (MQJs).
AFSI underwent the extensive and demanding qualification process with NAVSEA so as to better service our customers by ensuring that we can provide the best quality product at competitive pricing, thus enabling our customers to meet the stringent testing requirements of the United States Navy as outlined in the MIL-STD 2042B (SH). Many hours of manufacture, testing and certification took place to ensure that AFSI MQJs meet the dependability, reliability and repeatability necessary to test fiber optic cable assemblies as required by the MIL-STD.
Our MQJs have been specifically designed and tested to ensure that they interface and provide accurate and reliable measurements with all qualified M28876 vendor products.
Please refer to the list of product part numbers when ordering these assemblies