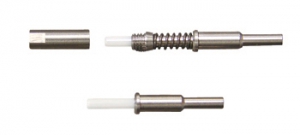 M29504/4 & /5 Fiber Optic Termini
Termini
Amphenol Fiber Systems International's (AFSI) M29504/4 & /5 style fiber optic termini, the M29K1000 and M29L1000 provide superior optical and mechanical performance. Designed to fit into MIL-DTL-38999 Series III, pin size 16 connectors, this low cost, high precision termini family is ideal for harsh environment fiber optic interconnections. Available for single mode and multimode applications, these termini are qualified to MIL-STD-29504/4 & /5 Rev. D.
The M29K1000 and M29L1000 series termini utilize the highest quality zirconia ceramic ferrules and split alignment sleeves available. AFSI's tight-tolerance ferrules are optimized for low insertion loss, low back reflection and exceptional durability. All ferrules are capable of standard and ultra polished end faces for those tight optical budget applications. In addition, epoxy removal and polishing times are minimized by the ferrule's pre-domed design feature.
The M29L1000's zirconia split alignment sleeve design ensures accurate physical contact, fiber-to-fiber alignment and guarantees the highest performing connector of its kind for use in a variety of demanding environmental conditions.
The M29K1000 and M29L1000 series fiber optic termination system offers precise, superior and reliable connections over repeated connector mating cycles and through a wide range of harsh environmental conditions.
Features
Precision fiber optic ceramic ferrules
Pre-radius ferrule design
Precision "press fit" stainless steel design
Accurate ferrule/split sleeve alignment system
Size 16 design (MIL-DTL-38999 compatible)
Low insertion loss and back reflection
Qualified to MIL-STD-29504/4 & /5 Rev. D.
Solid reliable connectivity through a wide range of harsh environmental conditions
Compatible with all qualified MIL-DTL-38999, Series III connectors
Fast termination and polish time
Reliable, repeatable and durable connections
Easy to clean
Applications
Commercial aircraft
Aerospace
Ordinance
Harsh environment
Land tactical
Shipboard
Specifications
| | |
| --- | --- |
| Description  | Measurement/Detail |
| Back Reflection   | Better than -40 dB – PC polish, better than -50 dB – enhanced PC polish   |
| Insertion Loss   | 0.45 typical (measured with 62.5/125mm fiber @1310nm)   |
| Operating Temperature   | -65°C to +150°C   |
| Temperature Life   | +150°C for 1000 hours   |
| Vibration   | 40 G random  |
| Mechanical Shock   | 500 G   |
| Mating Durability   | 500 cycles   |
| Salt Spray   | 500 hours   |
| Cable Retention Force   | 25 lb (dependent on cable construction)   |