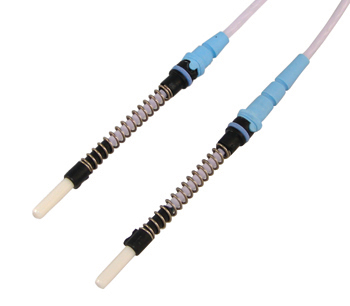 Lumiére Fiber Optic Termini
Termini
Amphenol Fiber Systems International (AFSI) offers the Lumiére fiber optic terminus for commercial airframe, avionics and aerospace applications. AFSI's Lumiére termini are a direct replacement for ELIO® termini and are compatible with existing ELIO® connectors. This fiber optic contact utilizes a 2.5mm diameter field-proven ceramic ST type ferrule, which can be inserted into a size 16 cavity.
The terminus is hermaphroditic allowing the use of the same contact in the receptacle or plug. In addition, the contact is available in both multimode and single mode versions. An anti-rotation feature allows PC, UPC and APC polishes. Because the Lumiére features a standard ST type ferrule, well known procedures and readily available tools can be used for termination. Long and short boot versions are available to support multiple connector types.
Amphenol also manufactures a full line of EN-4531 and EN-4165 rectangular and cylindrical connectors to house the Lumiére termini.
Features
Hermaphroditic style allows one contact type
Standard 2.5mm ST type ferrule interface allows the use of standard termination procedures and readily available tools
Simple access to optical termini facilitates cleaning
Options available for single mode and multimode fiber
Pull proof option allows the use of the terminus in a connector without a backshell
Supports both tight or loose structured cable
Applications
In-flight entertainment systems
Avionics
Heads-up displays
Airframe