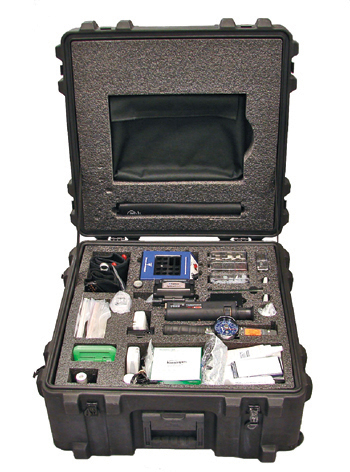 Working in collaboration with the United States Army Communications Electronics Command (CECOM), Amphenol Fiber Systems International (AFSI) designed and developed the TFOCA-II® fiber optic connector. This unique connector was designed for use in the military, oil & gas, mining and broadcast environments. The US Army has named the TFOCA-II® the next generation fiber optic connector for the military's tactical networks.
The TFOCA-II® termination kit was developed for installers and maintainers of fiber optic tactical deployable networks. Offered in a rugged, transportable case, the kit includes all the hardware and consumables needed to terminate and maintain TFOCA-II® connectors.
In addition, AFSI offers termination kits for terminating most optical connectors on the market today. Upgrade options are available for existing termination kits, improving quality and productivity for polishing fiber optic connectors. Based upon specific termination requirements, AFSI can add connector specific assembly tools to the standard TFOCA-II® termination kit to terminate numerous connector styles, including TFOCA and AFSI's other hermaphroditic multi-channel fiber optic connectors.
These termination kits include:
FKIT006-FSP – TFOCA-II®/TFOCA termination kit with splicer
FKIT007 – NAVSEA SUB 7085185 termination kit
FKIT008 – TFOCA-III® termination kit
FKIT009 – SMPTE358 termination kit
FKIT010 – TFOCA-II® consumables kit
FKIT014 – M28876 6872813 termination kit
FKIT015 – TFOCA-II® 4/12-ch termination kit
FKIT017 – TFOCA-II®, TFOCA-III®, THD combo kit
MSPKIT-001 – Splice enclosure protection assembly kit
RS-MSPKIT-001 – Splice enclosure protection restock kit