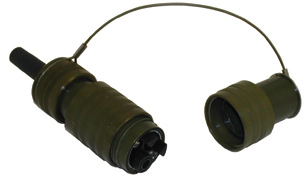 TFOCA Multi-Channel Fiber Optic Connectors
Physical Contact Connectors – Hermaphroditic Connectors
In 1999, Amphenol Fiber Systems International (AFSI) designed the TFOCA connector series as a direct replacement for the connector portion of the US Army's legacy TFOCA (Tactical Fiber Optic Cable Assembly) equipment. This connector series has become known simply as "TFOCA." The AFSI TFOCA series has been formally approved by CECOM (US Army Communications Electronics Command Fort Monmouth, New Jersey) and meets the performance criteria as specified in MIL-C-83526. In addition, AFSI is fully qualified and formally approved by CECOM to fabricate cable assemblies using the AFSI TFOCA connector. These assemblies have been tested in accordance with MIL-C-49292.
The TFOCA connector is a hermaphroditic design utilized for tactical deployable communications systems. This genderless characteristic allows for concatenations of cable assemblies without regard for connector interface compatibility.
The ruggedized connector and housing will withstand the repeated handling and mating cycles typically required for rapid fiber optic cable deployment and retrieval in a tactical environment.
Benefits
The TFOCA's unique design and environmentally protected construction provide protection from high compressive and tensile loads. Seals at every interface ensure outstanding resistance to moisture penetration. The cable termination is designed to firmly anchor the cable Kevlar® strength members to the connector housing without special tooling. The AFSI TFOCA connectors can be terminated and repaired in the field using existing US Army equipment or the AFSI TFOCA Termination Kit (P/N KTBK7000).
Features
Hermaphroditic design ideal for deployable conditions
Replacement for US Army and US Marine Corps legacy TFOCA (AT&T)
Multimode
Field maintainable and repairable
Biconic termini
Applications
Military Tactical Deployable Communication Systems
Legacy US Army Systems
Legacy US Marine Corps Systems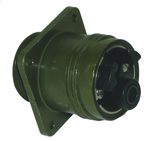 Specifications
| | |
| --- | --- |
| Description | Measurement/Detail |
| Number of Channels | 2-channels |
| Optical Loss (typical) (MM) | 0.6 dB |
| Field Maintainable | Only requires common tools (screwdriver); no special tools required |
| Fiber Type | 50/125 Radiation hard fiber available (phosphorus free) |
| Insertion Loss | 50/125 Multimode fiber -0.6db typical |
| Operating Temperature | -10°C to +75°C |
| Mud | Per MIL-C-83526 /12 and /13 |
| Shock | EIA/TIA-455-14, Condition A |
| Vibration | MIL-STD-1344, Method 2005.1 |
| Cable Retention | 400 lb minimum per EIA/TIA-455-6 (applies to plug) |
| Twist | 1000 cycles per EIA/TIA-455-36 |
| Cable Seal Flexing | 100 cycles per MIL-STD-1344, Method 2017, Procedure I |
| Mating Durability | 2000 cycles per EIA/TIA-455-21 |
| Water Pressure | Per MIL-C-83526 /12 /13 requirements |
| Ice Crush/Freezing Water Immersion | Per MIL-C-83526 /12 /13 requirements |
| Impact | Per EIA/TIA-455-2 |
| Crush Resistance | 450 lb minimum per EIA/TIA-455-26 |
| Flammability | MIL-STD-1344, Method 1012 |