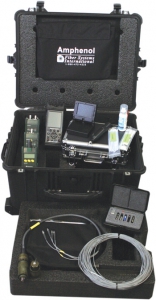 Fiber Optic Test Kits & Sets
Test Equipment & Tools
Amphenol Fiber Systems International (AFSI) has selected test equipment that is ideal for the field technicians who install and test our products. We offer a wide range of test equipment that meets our customers needs, including the periodic installer to the rugged field requirements for the US Army and USMC deployed or depot maintenance personnel to the advanced requirements of the Navy Shipboard installer requiring Navy approved test sets.
AFSI has selected test equipment based upon its performance and suitability to our product line. Careful testing and field use has proven our product selection to be the right choice for our customers.
Please refer to the list of product part numbers when ordering these assemblies from AFSI or one of our authorized distributors.
AFSI is an authorized distributor of Fitel and Greenlee Textron products.
Test Kits and Sets
FSPP-315-00-001 pocket size visual fault locator

FSPP-130-00-002 range finder scope

FSPP-128-00-003 PX-D102N NAVSEA approved source & meter