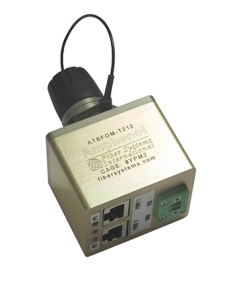 Amphenol Fiber Systems International (AFSI) offers the TACBeam® Fiber Optic Modem (FOM) to provide optical-electrical (O-E) and electrical-optical (E-O) conversion for harsh environments. This stand-alone unit features ruggedized optical transceivers integrated in a compact housing with single or dual T1 RJ48 electrical interfaces (additional electrical interfaces available − consult factory) and AFSI's TACBeam® 4-channel expanded beam connector.
The "plug and play" unit allows systems engineers to effortlessly convert their systems to take advantage of the benefits of fiber optics without the need to design and develop harsh environment fiber optic transceiver electronics. The TACBeam® FOM's compact size also significantly reduces the footprint devoted to O-E and E-O conversion.
The standard TACBeam® FOM provides conversion for G.703 T1 (1.544Mb/s) electrical signals via a standard RJ-48 to multimode optical signals via AFSI's TACBeam®. The TACBeam® is qualified to the M83526/20 & /21 specification and uses expanded beam technology to reduce the impact of particulate matter on the optical performance. Expanded beam technology also facilitates the cleaning of the connector, reducing maintenance costs and improving up-time. Because the connector faces do not touch, the TACBeam® can be mated/demated more frequently than traditional physical contact connectors.
Features
Effortlessly converts systems to fiber optics (longer distances, EMI/RFI immunity, lighter weight) without major system design/redesign
Compact size significantly reduces O-E/E-O conversion compared to traditional discrete designs
Harsh environment transceivers support extended temperature range and military vibration/shock requirements
Converts single or dual T1 signals (two or four fibers)
Qualified with MIL-PRF 83526/20 & /21 optical interface and G.703 T1 electrical interface
Expanded beam technology decreases the impact of particulate matter on optical performance, lowers maintenance costs and increases up-time
Applications
Military command shelters and platforms
Military fire control
Satellite communications
Fiber optic infrastructures
Sensor systems
Vehicles
Radar
Specifications
| | |
| --- | --- |
| Description | Measurement/Detail |
| Fiber supported | 62.5/125 microns |
| Output power | -10dBm (min), -4dBm (max) |
| Transmit extinction ratio | 8dB (min), 10dB (max) |
| Receive sensitivity | -25dBm (min), -27dBm (typ), 0dBm (max) |
| Operating temperature | -40 to +85ºC |
| Electrical interface | Single or dual G.703 T1 via RJ-48 |
| Power | 3.3 VDC (3.0-3.6) or 12 VDC (5-18) or 24 VDC (18-32); 2W max |