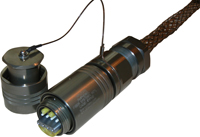 Fiber Optic/Electric Connectors
Amphenol Fiber Systems International (AFSI) offers the Optron line of circular, hybrid (fiber optic/ electrical) connectors using proven M28876 technology. The high-precision engineered polymer insert provides optical performance superior to that of other hybrid connectors particularly in high channel count configurations.
Using widely available M29504/14 & /15 fiber optic termini, the Optron connector supports between 4 and 31 fiber optic and/or electrical contacts in any combination. For power applications, AFSI can provide inserts to support copper contacts up to size 10 AWG.
Optron connectors are available in a wide variety of materials including aluminum or stainless steel. Available finishes include black anodize, cadmium and electroless nickel. For applications requiring environmental sealing, AFSI offers a suite of backshells in straight, 45 and 90 degrees.
Features & Benefits
Multiple shell and insert sizes allows the flexibility to support up to 31 fiber optic and/or electrical contacts
Based on the M28876 connector series, these connectors provide the user with proven superior optical performance and proven field reliability
The Optron connector series is available in a wide variety of materials and finishes to support high temperature, high humidity and corrosive environments
A complete suite of backshells is available to provide environmental sealing
Applications
Military & Aerospace
Mining
Oil & Gas
Industrial
Specifications
| | |
| --- | --- |
| Description | Measurement/Detail |
| Insertion Loss (Multimode) | 0.35 dB typ (62.5/125), 0.75 dB max |
| Insertion Loss (Single Mode) | 0.35 dB typ (9/125), 0.75 dB max |
| Back Reflection | -45 dB typical (Single Mode) |
| Operating Temperature | -28°C to +65°C |
| Storage Temperature | -40°C to +70°C |
| Cross Talk | Per EIA/TIA 455-42 ≥ 60 dB channel separation |
| Mating Durability | 500 cycles per EIA/TIA-455-21 |
| Vibration | EIA/TIA-455-11, TC II & VII, 30 min/axis, 5-500 Hz sinusoidal, 5 – 2000 Hz random, 10 g |
| Mechanical Shock | MIL-STD-901, Grade A, Class I |
| Thermal Shock | -40°C to +70°C, EIA/TIA-455-71, test schedule C, 5 cycles |
| Thermal Cycling | -28°C to +65°C, 5 cycles per EIA/TIA-455-3 |
| Corrosion Resistance | 500 hour salt spray per EIA/TIA-455-16, Test Condition I |
| Ozone Exposure | 150 ppm for 2 hours per EIA/TIA-455-189 |
| Humidity | 240 hours @ 98% RH per EIA/TIA-455-5, Method B |
| Fluid Immersion | EIA/TIA-455-12 |
| Crush Resistance | 7 tests @ 1250 Newtons per EIA/TIA-455-26 |
| Maintenance Aging | Terminus insertion and removal, 10 times |
| Terminus Retention Force | 22 lbs for 5 seconds |
| Insert Retention Axial | 100 psi torque for 1 minute |
| Cable Pull Out Force | 162 lbs for 10 minutes per EIA/TIA-455-6 |
| Cable Sealing Flexing | 200 cycles at 180° flex per EIA/TIA-455-1 |
| Impact | 64 drops @ 7 feet rotated each time per EIA/TIA-455-2, Method B |
| Flammability | 0.75 inch flame for 10 seconds mated, 1.5′ flame for 60 seconds unmated per EIA/TIA-364-81 |
| Service Rating | 600 VRMS |
| Dielectric Strength | 1,800 VRMS @ sea level |
| Insulation Resistance | 5,000 Mohm minimum @ 500 VDC |