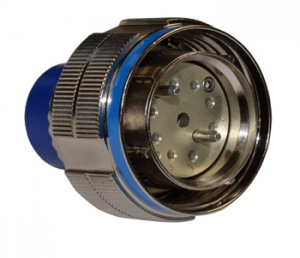 Physical Contact Connectors – Circular Connectors
Amphenol Fiber Systems International (AFSI) produces the ARINC 801 cylindrical fiber optic connector suite for aerospace and military applications. Based on the commercial ARINC 801 specification, this series features a removable alignment sleeve retainer (ASR) for ease of termini end face cleaning, guide pins for precision alignment and a scoop proof shell design. It is available in standard D38999 plug and wall mount shells. Inserts are available to support 2 to 32-channels and can support both PC and APC.
AFSI also offers the companion ARINC 801 terminus which uses a standard 1.25mm ferrule and sleeve that can be terminated with standard LC termination procedures. The terminus can be inserted or removed from the connector with a standard size 16 contact removal tool. The terminus is available in both multimode and single mode versions. The fiber optic contact provides low insertion loss (0.3dB max, multimode) and back reflection (-55dB, APC). In addition to the standard PC endface option, AFSI's ARINC 801 termini are offered with an APC end face for applications requiring reduced back reflection.
Features
Qualified to the ARINC 801 specification
Precision alignment and components provide excellent optical performance
Supports standard suite of 38999 backshells and accessories
Removable ASR facilitates termini cleaning
Scoop-proof design prevents termini end face from being touched by the front of the mating connector
High-density arrangements up to 32-channels
Applications
Commercial airframe
Avionics
Military radar
SATCOM systems
RF-over-fiber