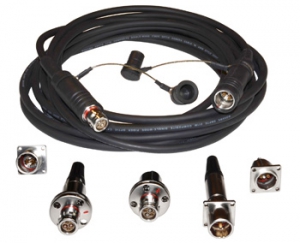 110 Series SMPTE 304M Connectors
Physical Contact Connectors – Hybrid Connectors
Amphenol Fiber Systems International (AFSI) manufactures 110 series connectors conforming to the SMPTE 304M Standard. These hybrid connectors are designed for high definition broadcast television cameras used worldwide for the production and transmission of high definition TV programming.
The 110 series connectors feature two fiber optic termini and four electrical contacts. The high precision fiber termini provide superior single mode performance, while the two auxiliary electrical contacts permit supply of power remotely to the camera at long distances from the studio, control van or CCU. Two additional low voltage electrical contacts are provided for communication purposes. The connectors are designed for use in conjunction with SMPTE 311M Standard cables.
The connectors are fabricated from stainless steel to withstand corrosive elements when exposed to the extreme harsh outdoor environments and are sealed to an IP68 rating to block out ingress of damaging dirt, dust and moisture. The robust shells are also designed with thick walls to prevent damage from rough handling during outdoor deployment at venues such as professional sports arenas. Metal or rubber dust caps are available to protect against contamination of the interfaces. The connectors are designed for easy termination in the field.
Features
SMPTE 304M compliant
Hybrid (2-ch SM fiber + 2HV + 2LV)
Push pull quick connect/disconnect mechanism for easy/quick mating
Multiple key design for easy blind mating
Low insertion loss
High back reflection with ultra PC polish
Plug and socket configuration for easy daisy-chaining
Designed for excellent optical performance over the harshest environmental conditions
360 degree shielding for full EMI screening
Plug shell has color-coded band
Designed for easy field termination
Applications
HDTV broadcast cameras
Studios
Outside broadcast vehicles
Sports arenas
Auditoria
Specifications
| | |
| --- | --- |
| Description | Measurement/Detail |
| Insertion Loss | 0.5dB max |
| Return Loss | -45dB min (UPC polish) |
| Temperature Range | -40° to +75°C |
| Humidity | 0% to 95% RH (at +40°C) |